Review: MPowerSynth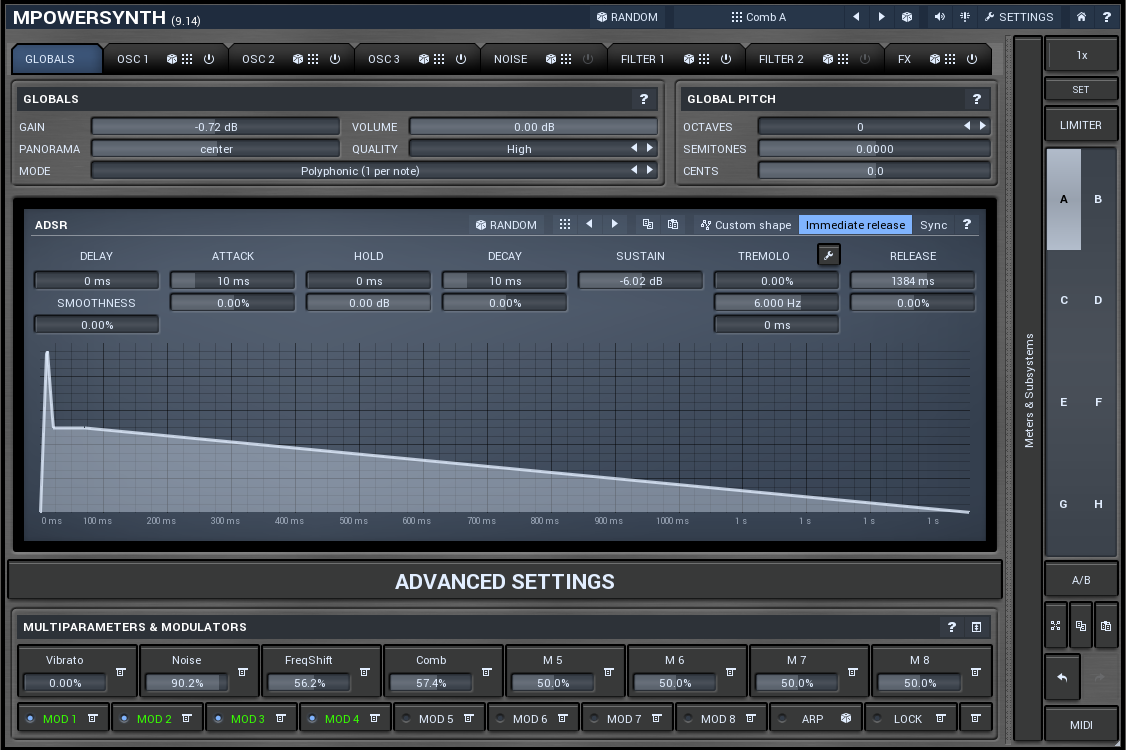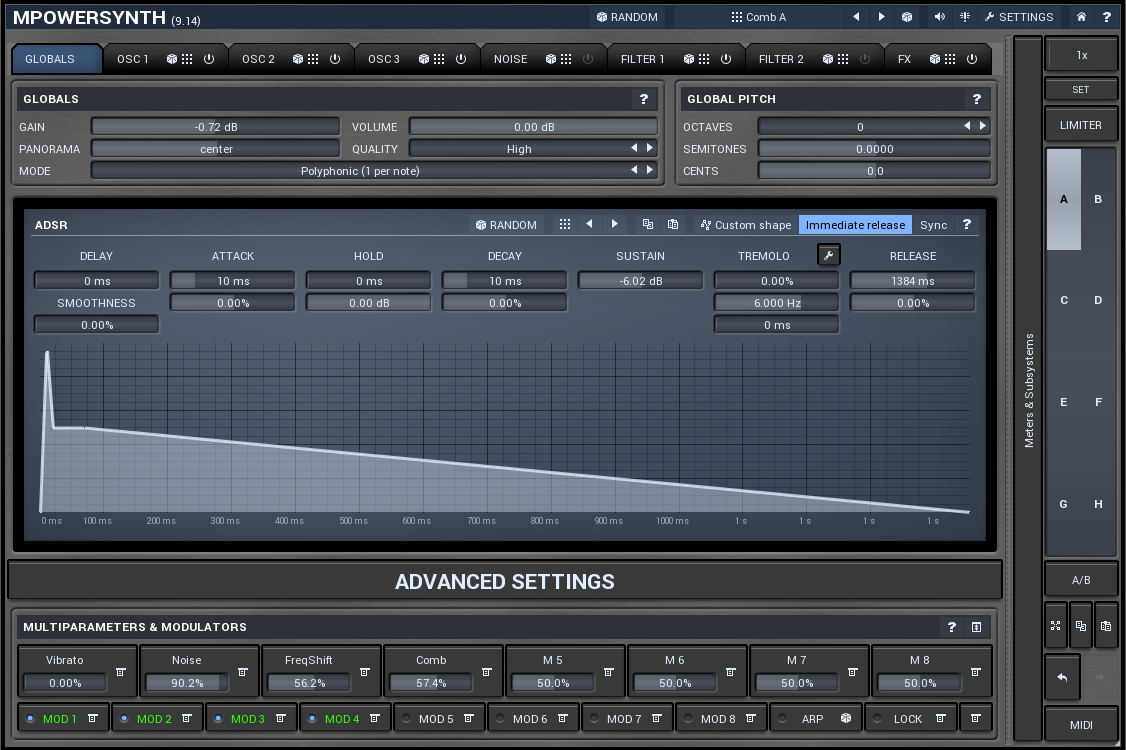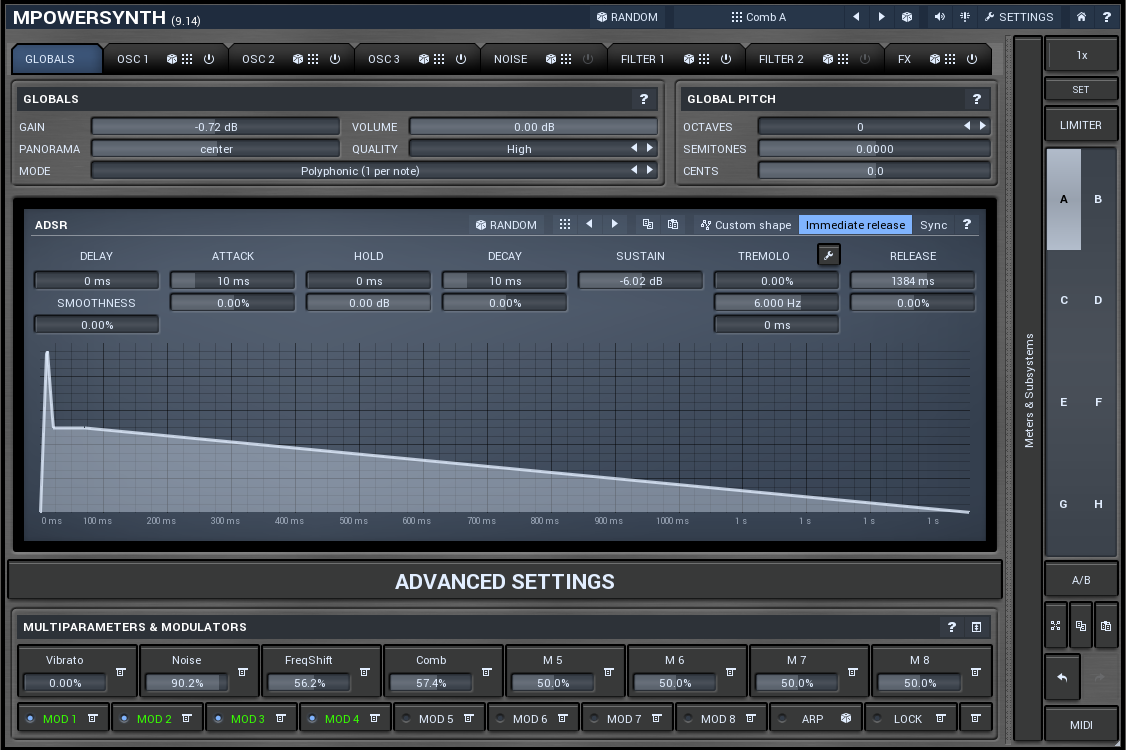 MPowerSynth from Melda Production is a versatile synthesizer with nice sounding oscillators, advanced filters and effects. A unique feature is the smart randomization system, that allows for endless inspiration.
If you are a beginner in sound design, you will appreciate the smart randomization can create some unexpected cool sounds. If you are more experienced you will appreciate that this synth has lots and lots of settings and advanced features. And it sounds really, really good!
Presets
MPowerSynth has 1500+ high quality factory presets. The presets are arranged in folders. You can add, rename and delete folders, so you can easily get your favorite presets arranged in a structure you like.
Can't decide which preset to use? Then click the randomize button next to the Previous/Next Preset arrows - this will select a random preset.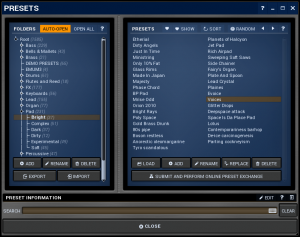 Smart Randomization
The smart randomization feature is what really separates MPowerSynth from its competitors. Click the RANDOM button at the top to randomize all settings in the synth engine. Some times the result is just noise but often you will get a nice sound that will inspire you in a certain direction and you can then manually tweak all the settings until satisfied.
Many settings include a similar random function that only randomizes that particular setting, e.g. the randomize button next to the Prev/Next Preset arrows that will select a random preset. You like the overall sound but want to try out some different filters? Just randomize the filter settings. Everything sounds good but might be better with some different effects? Try randomizing the effects.
Oscillators
MPowerSynth has three oscillators and a noise generator. The oscillators create crystal clear sound without aliasing or distortion.
The oscillators support several wave shapes. You can draw your own waveform or edit the existing, import a waveform or use the randomization feature to generate new waveforms. You can morph between the predefined waveforms and your custom shape for some nice evolving sounds. Very cool feature!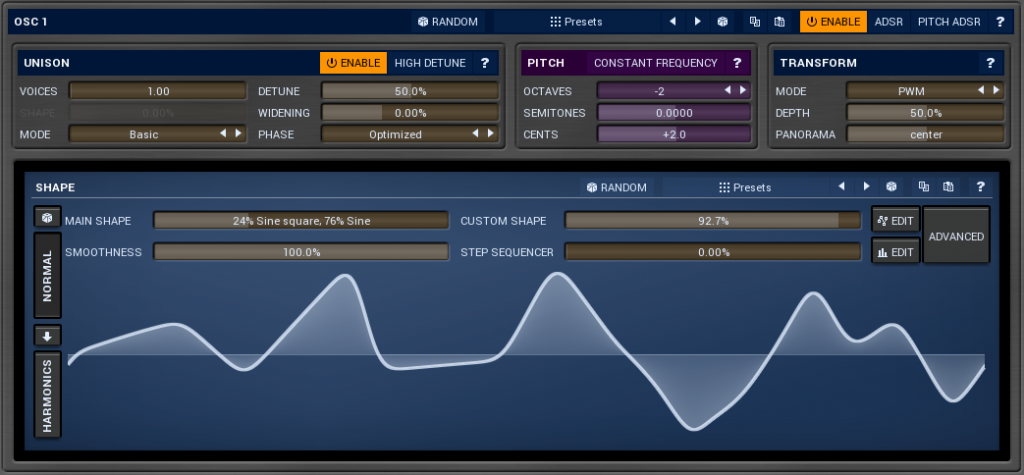 Filters
The two filter tabs contain similar filter sections with more than 100 filters including classic low/high/band-pass filters but also formant, comb, diffuser and polymorph filters. You need a steep filter? What about 120dB/octave - MPowerSynth got you covered.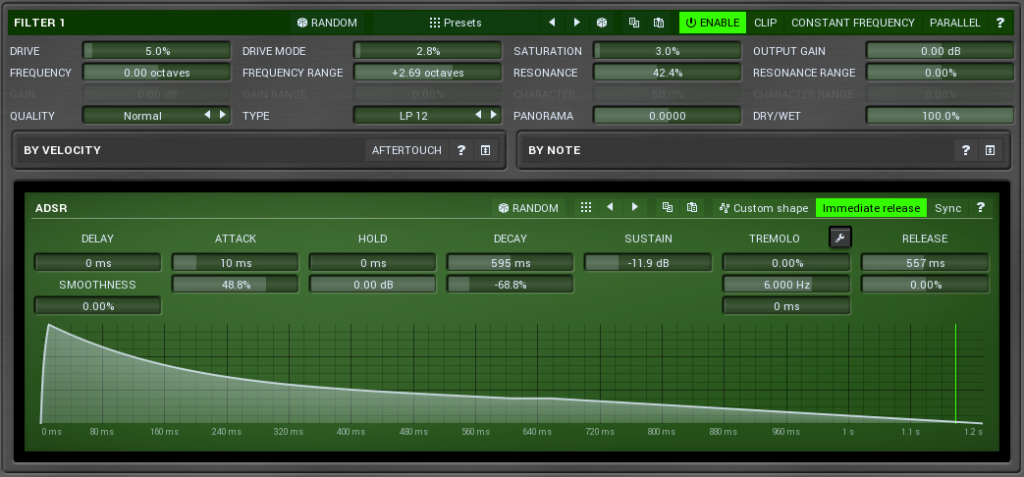 Effects
The effect section is normally very limited but MPowerSynth has a very powerful FX section with a modular approach where you can select from 35+ effects and some building blocks for creating your routing like crossover, feedback, mixer etc. You can setup your FX structure manually or use the smart randomization feature to try out some different settings.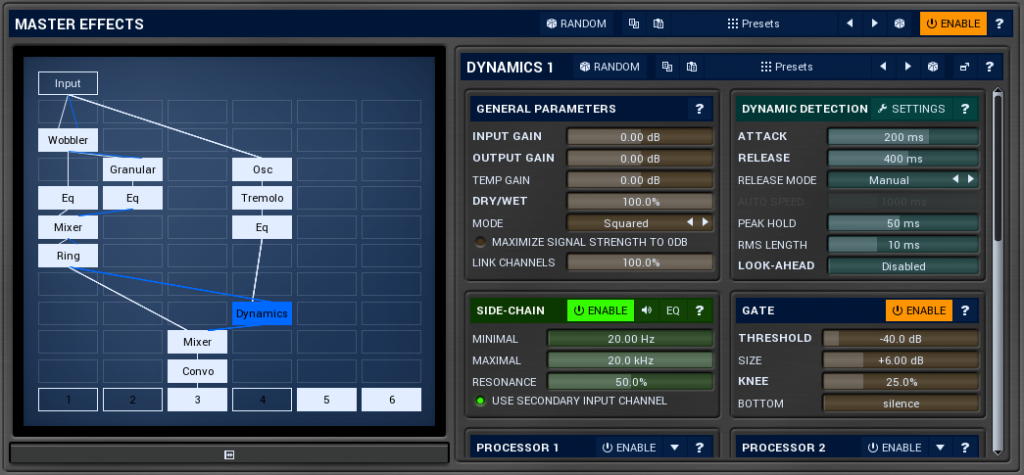 Modulation
The Advanced Settings section contains eight modulator sources supporting LFO's, envelopes and random generator. Click on one of the MOD buttons to open up a window where you can modify the settings of the modulater and add modulation targets. Here you can also define how much the modulation will change the targets value. LFO's can be free running or synced to host.
In the Advanced Settings section you will also find eight "multiparameters" (macro controls)  which you can bind to a MIDI controller and use to modulate different parameters of the synth engine. This is very useful for live performance where you can easily adjust the most important settings and forget about all the other advanced settings in the synth engine. Most presets use at least 4 multiparameters.

Arpeggiator
Clicking the ARP button in the Advanced Settings will open the arpeggiator. It is very versatile and support not only the usual up/down arps but also a 32-step polyphonic step sequencer. You can manually design your patterns, choose a preset or use the randomization feature.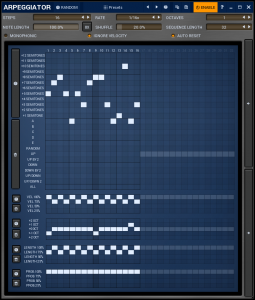 Verdict
Pros:
Impressive sound quality
Very powerful and flexible synth engine once you get to know all the hidden settings!
Good arpeggiator
The smart randomization feature can provide you with inspiration for new sounds
Cons:
Can be CPU intensive
The tabbed user interface and many popup windows can be overwhelming and make it difficult to get an overview of the settings.
You can buy some very good soft synths for half the price of this plugin.
At first look the UI is a little boring and uninspiring compared to other "power synths" but once you start playing with it and learn about all the hidden gems, you will really enjoy this synth. It is very powerful with many advanced features. This is a great synth for a sound designer.
Price
Current  price is $199.
Each week Melda Production offer 50% discount on some of their products so with a little patience you may be able to buy this one with a discount.