Review: Roland Cloud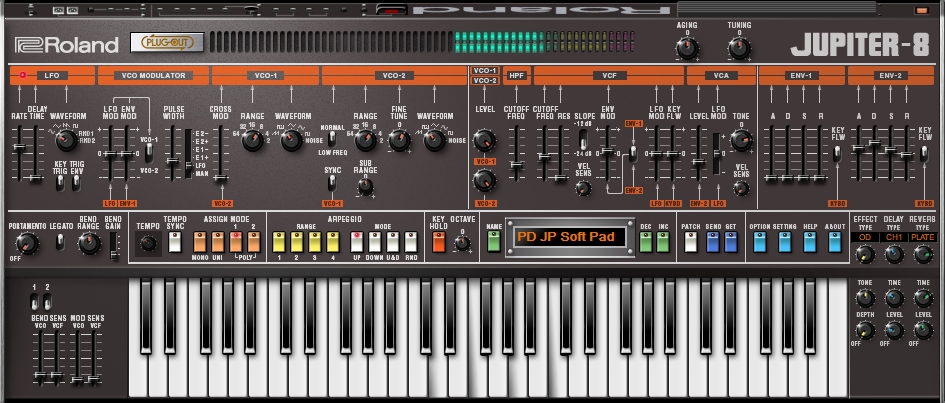 Roland Cloud is a subscription based service where you can download and use all of Rolands VST plugins. To try it out just sign up for a month of free access to all the instruments in the Roland Cloud.
Roland Cloud contains different series:
AIRA Series include the new System-1 and even newer System-8 synths.
Anthology Series 
Flavr Series
Legendary Series include some very famous vintage gear like Juno 106, Jupiter 8 and SH-101.
Software Solutions currently only contain the R-Mix tool
Tera Series include a beautiful guitar and piano.
For more information visit www.rolandcloud.com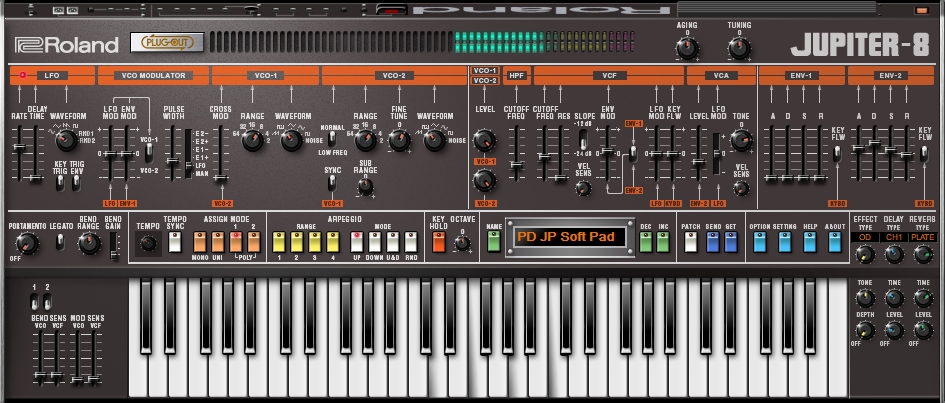 YOURS loyalty program
The YOURS loyalty program allow you to pick one instrument for free each year: If you subscribe to the Roland Cloud for a year you get to pick one instrument that you will then own for the rest of your life even if you cancel your subscription. Continue your subscription for one more year and you get another instrument.
I really like this concept! This must be the best 'Try-before-you-buy' concept ever! For one year you can try out every single instrument with all their features and presets, and then select which one you prefer and get to keep it forever. For roughly $240 you not only get a full license for your favorite synth but also full access to everything in the Roland Cloud for a full year. I usually spend way more money than that buying or upgrading VST instruments or effects each year...
Also notice that the Roland Cloud instruments are automatically updated when Roland make a bug fix or add new features - you don't need to pay extra for upgrades. 
And as Roland continues to improve and add more instruments to the Roland Cloud the offer just keeps getting better.
Offline use
With Cloud based services you normally need to be connected on Internet to use these services. Of course you need to be connected to the Cloud in order to download and activate your instruments. But fortunately Roland allows you to take your instruments on the road and play without being connected to the Cloud.
You just need to connect to the Roland Cloud each week in order to keep your instruments activated.
Roland Cloud Manager
After signing up for the Roland Cloud service you should immediately download and install the Roland Cloud Manager. This application will allow you to install all the other plugins and it will also make sure to keep those plugins updated.
This sounds pretty cool. However on my PC the Roland Cloud Manager failed to install because my antivirus software believed it was malicious software!
After solving this problem I successfully installed a few plugins and gave them a first try. Some of the plugins download and install in a short time, other take a long time to download even though the installer is rather small compared to some of my sample libraries. For instance the Antology series took way longer to download than I expected and several times I aborted and started over because I thought the download had gone stale. Unfortunately the Roland Cloud Manager does not show any progress bar or status so you don't know if the download is almost done or if you have to wait some more time 🙁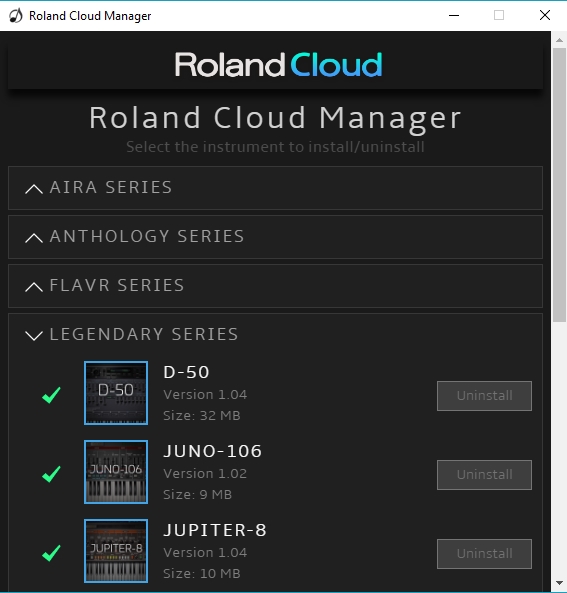 Another thing that annoys me: When you have a central download manager from where you can download and install all the plugins, why do I have to specify the installation folder of my VST2 plugins for each and every plugin? 
All in all I am not very impressed with the Roland Cloud Manager. @Roland: please take a look at the "Native Access" manager from Native Instruments - that's how you do it!
AIRA series
The System-8 and System-1 from the AIRA series sounds exactly like the hardware versions - this should come as no surprise as both software and hardware uses the ACB technology. Both sounds great and with lots of controls for the creative sound designer.
I am a big fan of the hardware version of System-8 but I will need to buy some stronger glasses before I can use the Roland Cloud version with any comfort as the controls and texts are way too tiny for my liking. As a workaround you can zoom the user interface to e.g. 150% or even 200% which make it more usable - the texts does however not look shard when zoomed.
Also the System-8 is a little buggy - very often when selecting a preset it will not make any sound. As a workaround you can select another preset and then go back to the one you wanted to use, chances are it will work now. If you want to use this instrument live, you better make sure that your arrangement doesn't require any preset changes in the middle of your performance!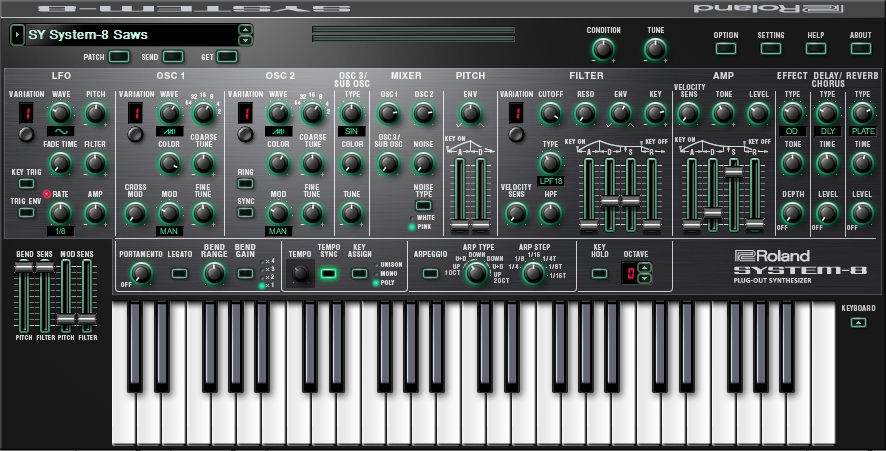 Legendary series
The Legendary series use Rolands Analog Circuit Behaviour (ACB) modeling technology to recreate legacy synths on a component modeling level (the same technology is used in the AIRA series). This result in an amazing true recreation of famous vintage synths. They can have a hard hit on the CPU however (not as heavy on the CPU as DIVA however).
Firing up the Juno 106 plugin was a trip down memory lane to the good old times when I played on the real thing. This plugin sounds so good! In a blind test I think I would have trouble deciding which is the Roland Cloud version and which is the real Juno 106 - it sounds really amazing.

Same story with the Jupiter 8 - amazing vintage analog sound. Very similar to the real thing - my ears can hardly hear any difference.
The D-50 was a pleasant surprise! I have never played on the hardware version so I really didn't know what to expect but the presets sound amazing and in contrast to some of the other Legacy synths the user interface actually has a usable size! I am certainly going to invest some more time into tweaking this beast!
Also included in this series are the System-100, SH-2, SH-101 and PROMARS.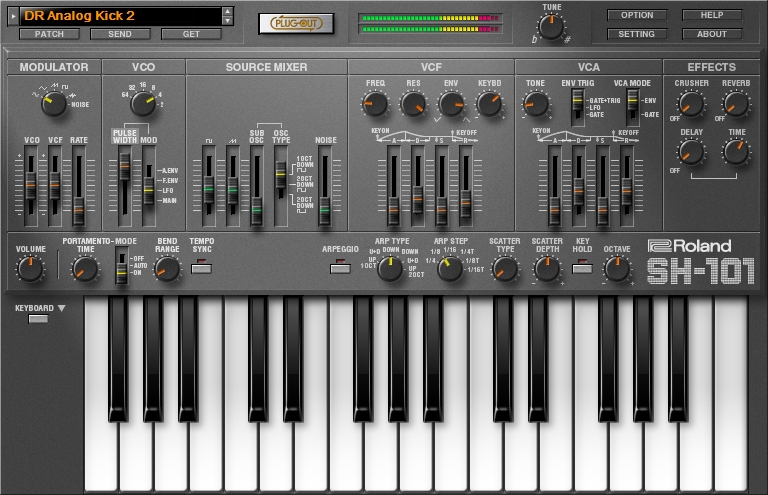 As much as I love the sound of the System-8, Juno 106 and Jupiter 8 I truly hate the tiny user interface! The buttons are too tiny for my old eyes and it is nearly impossible to read the texts and get an overview of the controls. The controls also take a little while to getting used to in but can actually be dialed in with some precision with a little training. You can click the Options button and zoom the user interface, but the texts are not very sharp when zoomed - they are however more readable. Roland claim to be working on a solution for better scaling so I cross my fingers and hope for a better solution in a future update.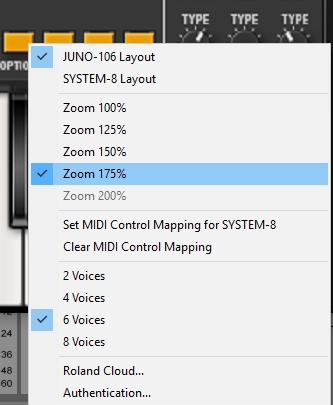 Another thing that annoys me are the inconsistent volume level! Some presets are way to loud and go all up in the read - and other presets have such low volume that they barely reach into the green part of the volume meter. So you will probably need to adjust the volume manually a lot while browsing through the presets. It would be nice with more consistent volume levels all through the presets!
I also noticed an annoying bug where a preset will not make any sound at all. E.g. playing a specific Jupiter-8 preset works OK but when changing to the next preset the sound is muted - going back to the previous preset it was also quiet now even though it worked just before. After trying some random presets and then going back it suddenly worked again. I wouldn't trust this for a live performance!
Anthology, FLAVR and Tera series
The Anthology, FLAVR and Tera series are all based on the "concerto" plugin. They have fewer controls and are not as intimidating for a novice as the Legendary or Aira series. They also require much less CPU power. The sound designer will prefer the Legendary or Aira series of course but for the singer-songwriter there are lot of great content in these "lighter" series.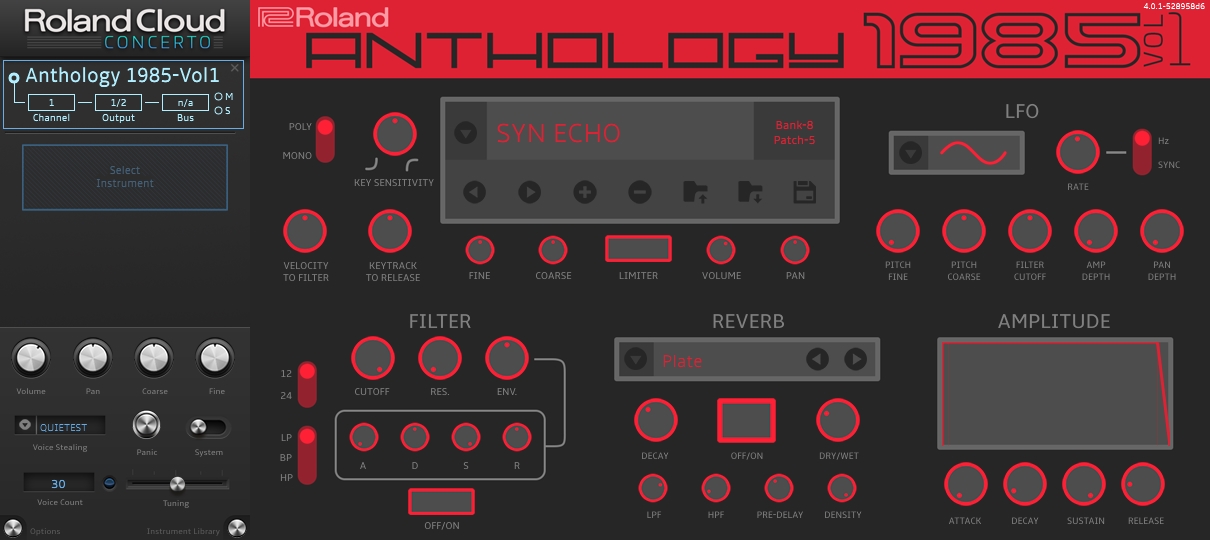 The Tera Guitar sounds amazing - especially if you tweak the presets a little! I also like the sound of the Tera Piano.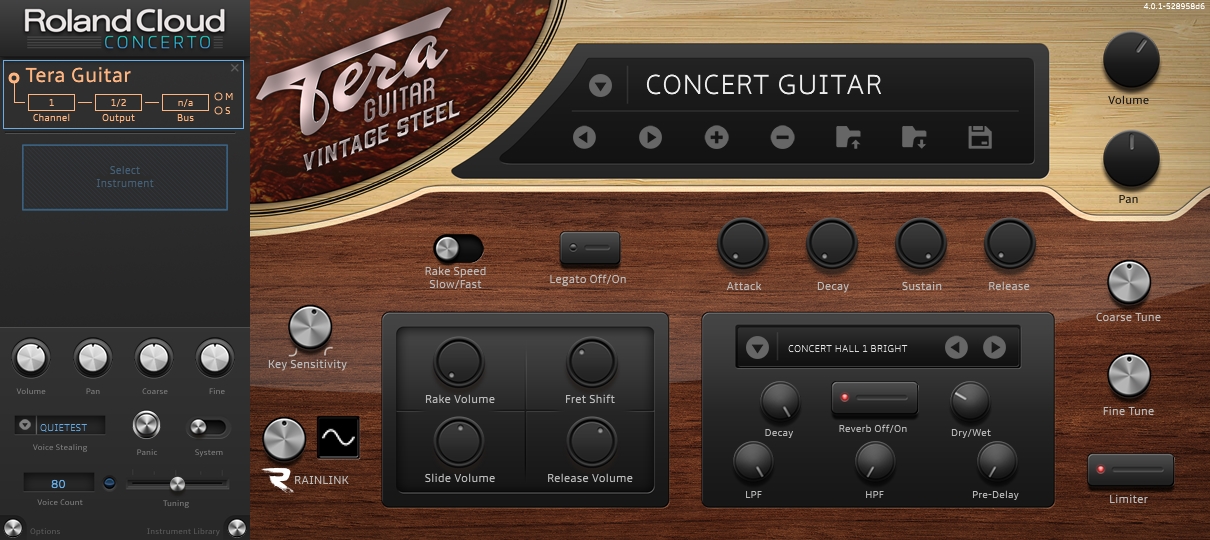 All in all I really like these instruments - they are not as advanced as the AIRA or Legendary series but they sound nice and are very useful if you just want to play and don't have time or experience for more advanced sound design. If you want to tweak the presets the user interface is actually useable - in contrast to the AIRA and Legendary series with their tiny buttons.
Verdict
Pros:
Lot of nostalgia here!
Amazing realistic recreation of famous vintage synths like Jupiter 8, Juno 106 etc. Love the sound of these plugins!
AIRA and Legendary series allow for some serious sound design and nice presets bringing back nice memories.
If you just need some nice presets the Anthology, FLAVR and TERA series sounds good and are very easy to use.
One month free trial with full access to all instruments!
YOURS loyalty program
Cons:
The user interface of Legendary and AIRA series is way to small and does not scale well on larger screens (zooming results in blurry text).
Some presets randomly failed to make any sound at all. Don't trust this for a live performance!
Inconsistent volume level across presets.
Roland Cloud Manager may have installation issues due to antivirus marks it as malicious software.
Roland Cloud Manager does not remember your install folder for VST2 plugins so you need to specify manually for every plugin - this is rather annoying.
Downloading plugins can be very slow compared to download managers from competing software and does not tell you current progress status.
I have played Roland synths for many years and loved to play them all. The Roland Cloud synths come very close to the real synths so I really like the sound of these instruments but the Roland Cloud software need to mature and solve some of the issues before I can give it a full 5 star verdict.
Price
The Core Membership cost $19.95/month or roughly $240 each year.   
Keep in mind that after a year you get to pick one instrument that you will then own even if you cancel the subscription so compare the yearly price to what it would cost to buy some other high quality plugins.