Review: FabFilter Pro-Q 2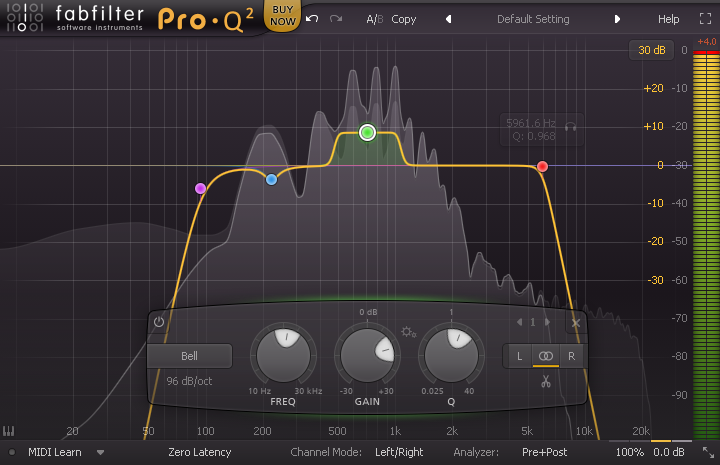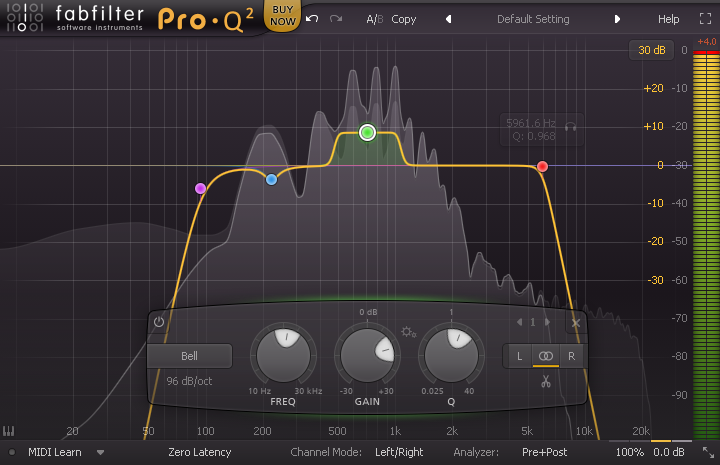 FabFilter Pro-Q 2 is a professional mixing and mastering EQ with pristine sound and a highly optimized workflow. With integrated spectrum analyzer, where you can graphically modify EQ nodes, EQ Match, Spectrum Grab, Solo mode and much, much more, this will improve your daily work in so many ways.
Features
Pro-Q 2 supports up to 24 EQ bands with Bell, Notch, High Shelf, Low Shelf, High Cut, Low Cut, Band Pass and Tilt Shelf filters. The slope for all filter types can be up to 96 dB/octave - using these very steep slopes allow for some very useful flat-topped bell shapes that not many of the competitors can handle.
Pro-Q 2 can operate in zero latency mode, linear phase mode with adjustable latency or the new Natural Phase mode, which is a low-latency mode with a more analog-like response.
The built-in spectrum analyzer support Pre-EQ, Post-EQ and SC modes with adjustable range, speed, resolution, tilt and freeze. Double-click in the spectrum view to add a new EQ band - click and drag an existing EQ node to modify its parameters. This is very intuitive.
Click the solo button (the headphones icon) to enter Solo mode for the current EQ band. The other EQ bands are dimmed. In solo mode you will hear the part of the frequency spectrum that is being affected by the current band. Move the mouse to adjust frequency and Q while soloing.
A nice feature is that you can resize Pro-Q 2 to Full Screen mode just by the touch of a button - this will make it easier to make precise adjustments to your EQ nodes. You can also resize the window using the Resize button where you can select between small, medium, large and extra large windows. The VST3 plugin also support resizing just by dragging the window edges.
Pro-Q 2 support Mid/side mode where you can EQ the mid and side signals separately - in stereo mode you can EQ the left and right channel separately or combined.
The Auto Gain feature will adjust the gain automatic to compensate for any increase or loss of gain after EQ'ing. You can also manually adjust the output gain.
The new Spectrum Grab feature allow you to easily grab one of the peaks in the spectrum analyzer. In Spectrum Grab mode the existing EQ bands will be dimmed while the spectrum freezes - you can now simply grab on of the peaks in the white spectrum line and drag to adjust.  A new EQ node with a Bell filter is created and you can customize the same way you would customize any EQ node you manually inserted.
If you are having problems getting your new track to sound the same as some of your previous work, you can use the EQ Match feature to compare your current spectrum to a reference spectrum and automatically add EQ bands to make your current audio sound like the reference signal. You can save any track as a Reference Spectrum or use Side Chain input as the reference.
The MIDI Learn feature allow you to bind a parameter to a MIDI controller. Click the MIDI Learn button - this will dim the UI and highlight the controls that can be assigned to a MIDI control. Now touch the control you want to assign, then adjust the corresponding slider or knob on your MIDI controller. That's it, nice and easy! You can save the current MIDI mapping, this will let you revert to a known mapping in cause you later make some changes by mistake.
Verdict
Pros:
Spectrum Grab
EQ Match
Mid/Side and Left/Right channel modes
Auto Gain
Solo Mode
Full Screen mode
Cons:
You can only view the parameters of a single band at a time
The price is a little high (but worth it!)
Even if you are satisfied with your current EQ(s) I highly recommend that you download a demo of FabFilter Pro-Q 2 and start exploring how it improves your workflow in so many ways. Highly recommended!
Price
With a price of € 149 this is not the cheapest EQ you can find, it is however one of the best if not the best.