Review: Superior Drummer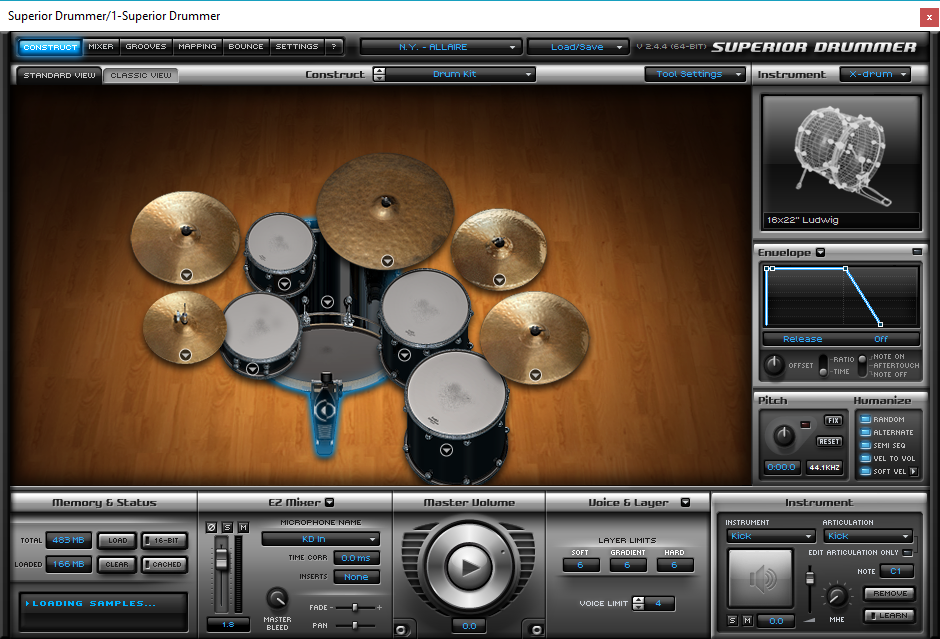 Superior Drummer 2 from Toontrack is a an award winning professional drum studio. The engine is a complete overhaul of the original DFH Superior from Toontrack and the user interface borrows elements from the very easy to use EZDrummer. Even though it is targeted for professional use with high quality sound and advanced features, Superior Drummer is very easy to use due to a well designed user interface and workflow.
Superior Drummer integrates nicely into your DAW - you can drag-and-drop drum patterns from the SD groove library directly into your DAW - or you can use it standalone using the included Toontrack Solo tool.
Sample library
The drum samples are recorded in the renowned Avatar Studios in New York and contains some of the best and most realistic acoustic drum samples I have tested! The sample library contains 60GB of high quality drum samples but thanks to lossless data compression it will only take up 20GB on your harddisk. 
The library include hits made using drum sticks, rods, brushes and felt mallets. The drums are recorded with several microphones including overhead and room microphones. The mixer allow you to control the amount of bleeding from the different drums into the different microphones and combined with the builtin effects this gives you complete control of the sound. 
The New York Studios drum kit included in the Superior Drummer package is based on a drum kit from GMS but also include a Ludwig, Slingerland and Rogers snare drum. All Hi-Hats and cymbals are from Sabian.
If you need more drum samples there are several SDX expansions available from Toontrack including some rare vintage drums. 
Construct
On the Construct page you can build a custom kit by clicking on each drum and choose one of the available types. You can save your drum kit as a custom project or load one of the existing presets.
The X-drum feature allow you to overlay your existing kit with other drums - you can stack and combine sounds not only from the active SDX library but also from other libraries. You can replace your existing drum or stack the X-drum on top of the existing drum so both sounds are triggered by the same MIDI key. Even when stacked you can have the original drum and the X-drum assigned to different channels on the mixer for complete control!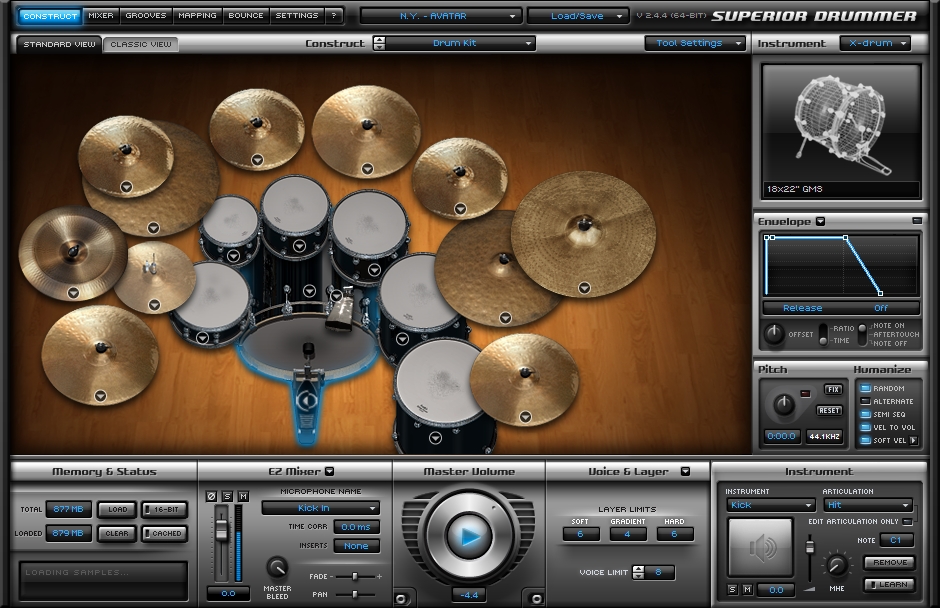 Mixer
The Mixer page is where you unlock all the power of Superior Drummer. There are several microphone positions for kick and snare drums as well as overhead and ambient microphones. Not only can you mix the levels of each channel/microphone. The Bleed Control allows you to control the bleeding or leakage from each drum into each individual microphone.
The mixer also features some nice and handy built-in effects:
5 band EQ
Highpass/Lowpass Filter with 12/24/48 dB slope
Gate
Compressor
Transient Shaper
With these effects and the bleed control you can really shape the sound. You can use the built-in presets as a starting point and also save your own settings as a custom preset.
One feature I hope Toontrack adds in a future version is the ability to use not only the builtin effects but also use 3rd party VST effects in the mixer.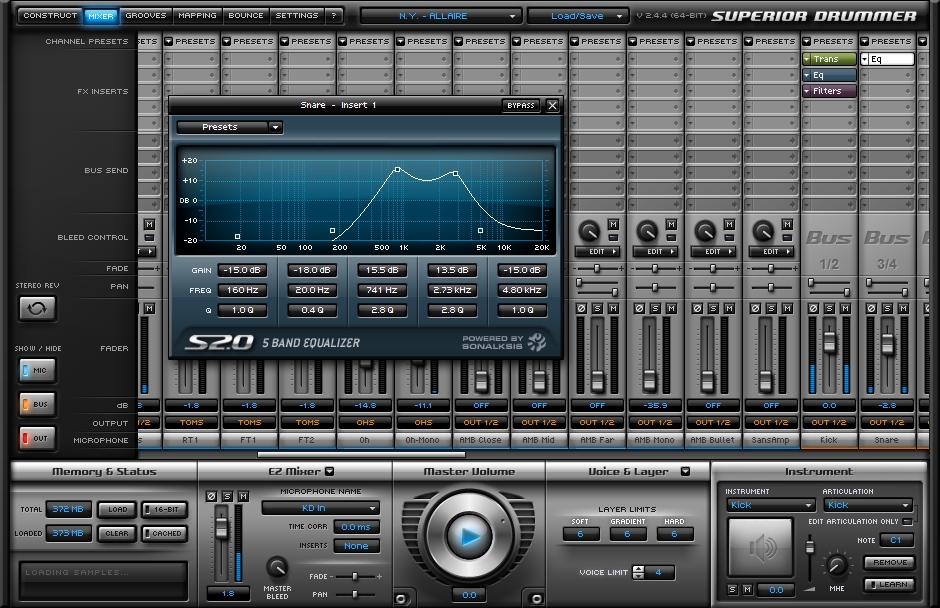 Grooves
You can of course play the drums manually using a MIDI keyboard or drum pads/E-drums but you can also use MIDI clips to quickly setup a drum track. Superior Drummer has a builtin groove library with excellent MIDI drum patterns for intro, verse, chorus, bridge and fills for different styles and tempos. 
The groove library combined with the high quality drum samples results in an ultra realistic drum sound - almost like having a real drummer in your studio. 
You can extend the groove library by buying MIDI pack extensions at the Toontrack web shop or add your own custom MIDI files. 
There are also drum MIDI packs available from other companies that are compatible with Superior Drummer and you can also use the EZplayer Pro tool from Toontrack to convert MIDI grooves from other companies to the format used by Superior Drummer. EZplayer Pro can also be used for arranging and editing MIDI clips so this is a very useful tool - I only wish this functionality was built into Superior Studio instead of having to rely on other tools.
If you have used EZDrummer (also from Toontrack) you probably appreciate the groove library and editing capabilities that allows you to search for similar grooves or record and edit new grooves. Unfortunately Superior Drummer is lacking these features even though it is a more expensive product. BFD3 from FXpansion is the most obvious alternative to Superior Drummer and includes an excellent groove editor, so Toontrack is lacking behind the competition here!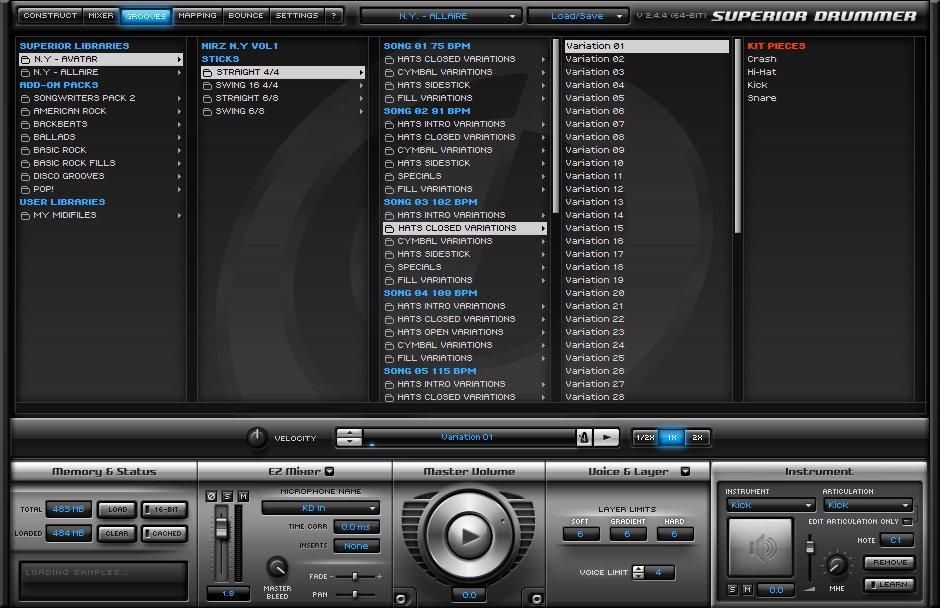 Verdict
Pros:
Superior sound quality!
The user interface is very intuitive and easy to use
Easy to get started thanks to versatile presets and groove library (but takes a little more to master due to lots of advanced features!)
Advanced drum mixer with microphone leakage/bleeding control and integrated effects for customizing the sound
You can make custom kits using XDrums and either stack or replace the standard drums in your kit.
Drag and drop MIDI clips from groove library to DAW
Expandable: Lots of SDX and MIDI extensions available from Toontrack
Installation, updating and activating software made easy with Toontrack Product Manager
Cons:
A little expensive (but cheaper than the most obvious alternative: BFG3)
You will probably need to buy more MIDI grooves and some SDX expansions, which will add to the total cost...
No builtin groove editor.
If you want best in class drum sounds and features for professional use Superior Drummer is an obvious choice! The included drum kits and grooves sound very realistic. This product truly lives up to its name - it really is superior!
Price
With a price of €259 this product is not cheap not the most expensive of the current pro drum studios.
Also - if you keep your eyes open for seasonal discounts you can save some money - currently Superior Drummer is on sale for only €148, which is a very fair price for such a high quality product.
There are also some crossgrade options if you have bought e.g. EZDrummer and would like to upgrade to Superior Studio you can log in at your  Toontrack account and see your price for upgrading.
Alternatives
There are lots and lots of drum samplers/studios - both freeware and commercial products - so there is something for every need and every budget. For that "real drummer" sound you could check out these alternatives:
FXpansion BFD3 is the most obvious alternative to Superior Drummer. It also has excellent sound quality and also includes a mixer with bleed control. It also features a very nice groove editor. Price: $349
Steinberg's Groove Agent is an interesting choice if you are using Cubase as it is well integrated. It includes several drum kits and a huge groove library. Price: €179
Toontrack EZDrummer is another award winning drum studio from Toontrack - it is not as advanced as Superior Drummer and the samples are not as detailed, but it is a good starting point and you can always upgrade to Superior Drummer later. Price: €139
Native Instruments Studio Drummer contains three drum kits, 3500+ drum patterns and a mixing studio which includes NI's SOLID series of effects. Price: €149 - also included in the Komplete 11 and  Komplete 11 Ultimate bundles.
Native Instruments Abbey Road series contains several nice sounding drumkits recorded in the famous Abbey Road Studio in London. The Abbey Road | Vintage Drums are sampled from some rare vintage drum kits from the 1930s to 1940s. Other packages covers the sound of the 50s, 60s, 70s, 80s and contemporary music. Includes versatile groove libraries. Each kit cost €99 - if you buy the Komplete 11 Ultimate bundle you get access to all the drum kits as well as lots of instruments and effects.