Review: Kontakt 5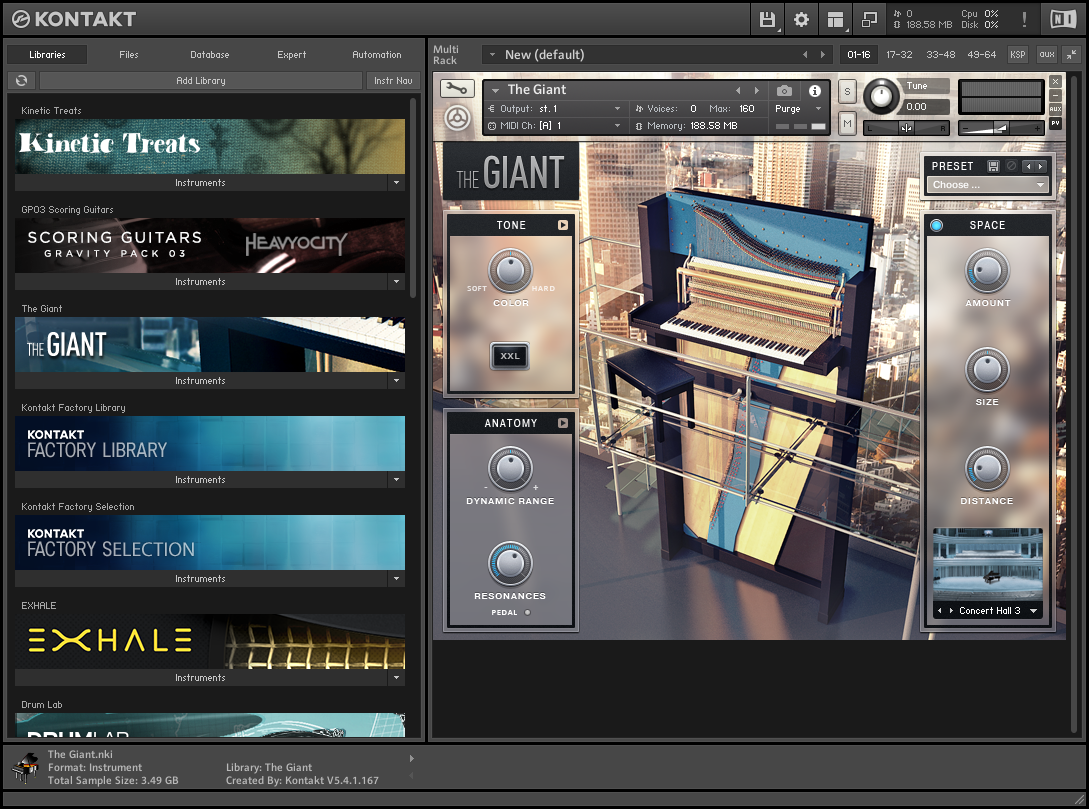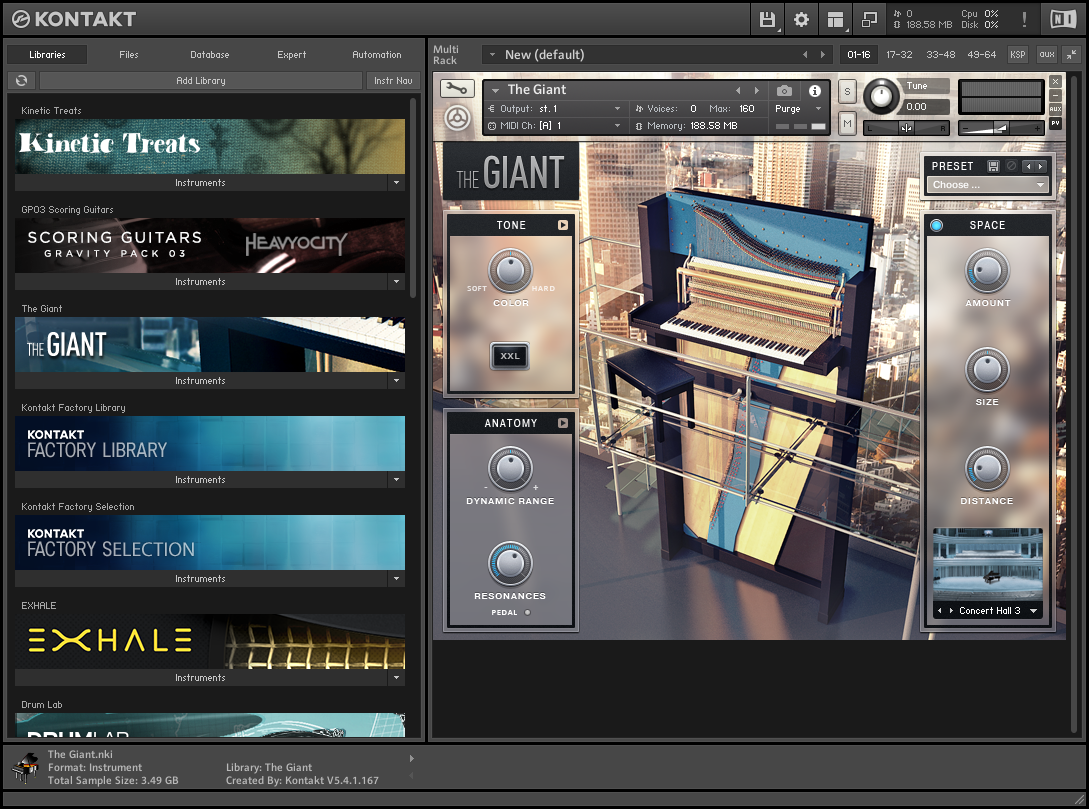 Kontakt from Native Instruments is the world's leading software sampler. It has a sophisticated sound engine, a wide array of effects, powerful modulation and scripting that allows for some amazing sounds. Besides being used by several of Native Instruments own sample based instruments it is also the core of several 3rd party instruments, e.g. the amazing Exhale by Output or Vocalise by Heavyocity.
The included sample library contains more than 1000 instruments based on 43GB high-quality samples. The samples are however stored using Kontakt's lossless compression audio format resulting in a much lower footprint on your hard-drive.
Available as VST/AU/RTAS plug-in or as standalone application.
Wave Editor
Kontakt supports all the commonly used audio formats. The editor allows you to slice the sample, add Fade In/Out, Normalize or Reverse. You can also Cut, Copy, Duplicate and Delete parts of a the sample. Use the Zoom tool to get a closer look at the waveform which make it much easier to make a precise cut.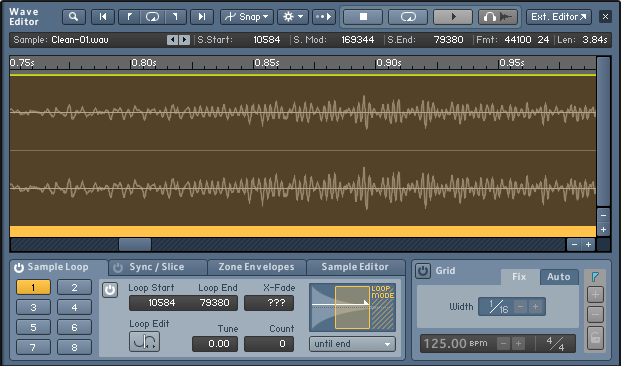 Mapping Editor
The Mapping Editor is used to define the root note of you sample and also which part of the keyboard is supported by your sample(s). As you go too far from the root note the sample starts to sound distorted or peculiar, so you should narrow the key range to only include the keys that sound good with your sample. To improve the sound quality for a wider key range consider using multiple samples e.g. C1, C2, C3, C4, C5, C6.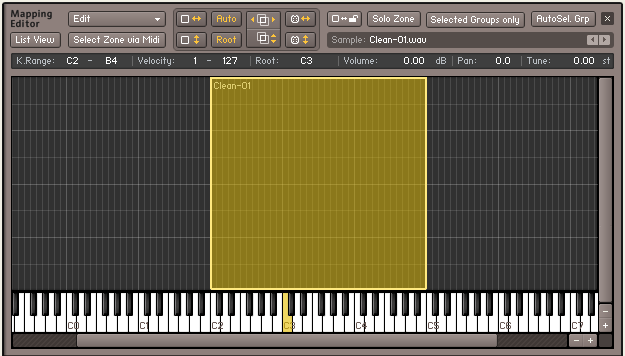 Sample Engine
The sample engine has several sample playback modes:
The traditional Sample mode simply plays back audio "as-is" from memory.
DFD - Direct From Disk - is similar to Sample but is intended for playing large samples directly from disk.
Time Machine, Time Machine 2 and Time Machine Pro use real-time time-stretch to change the pitch of the sample without affecting the playback speed. The new TM Pro offers better sound quality than the legacy TM and TM2 modes but is also more CPU hungry.
Tone Machine imposes a musical pitch onto the sample while keeping the tempo constant or synced to the host. It can turn a drum sound into a playable musical instrument or a simple high-hat sample into a crazy dark FX sound.
Beat Machine slices a rhytmical loop into small segments. Each segment can then be mapped to individual keys.
SP1200 simulate the vintage Emu SP1200 drum machine
MPC60 simulate the vintage Akai MPC60 drum machine.
The sample engine also support scription, MIDI patterns and custom user interfaces, which make Kontakt a great tool for creating your own sample based instruments.
Filters
Kontakt has all the usual Low-pass, High-pass, Band-pass, Peak/Notch filters and Kontakt 5 adds some welcome new filters:
Ladder filters are probably inspired by the famous Moog filters.
State Variable multi-mode filters are probably inspired by Oberheim synthesizers like the SEM.
Adaptive Resonance filter acts like an auto limiter by automatically adjusting the amount of resonance. This allows you to crank the resonance up full and do your filter sweep without causing too loud sounds.
Formant filters allow you to morph through vowel sounds.
You can modulate the filters using e.g. a LFO, envelope, step sequencer or the mod wheel.
Effects
Kontakt has 84 built-in effects including reverbs, delays, dynamics distortions, guitar amps and cabinets, modulation, equalizers, bit crushers, filters and more.
Kontakt 5 adds some nice new effects compared to previous versions:
Feedback Compresser is an emulation of vintage hardware compressor with a punchy bright sound
Solid Bus Comp appears to be modeled on the SSL G-series Bus Compressor. The Mix button allows you to do parallel compression. A gain-reduction meter gives you a visual guide on how much the compressor is working.
Solid-G EQ is a four band parametric equalizer apparently modeled on the SSL G-series console. The low and high band can switch between shelf or bell curve.
Transient Master is very useful for sculpting the dynamic shape of percussion and rescue samples by adding some punch to the snare or kick. Or you can dry out samples that are overly ambient. Or give some body and fullness to "thin" sounds.
Tape Saturator adds a subtle warmth at low levels and aggressive distortion at higher values.

Instrument Bus
Kontakt allow you to group several samples on one of the 16 Instrument Buses. This way you can group different drum samples and adjust level and pan on the drum bus instead of on each single sample. Furthermore you have eight effect inserts on the instrument bus so you can e.g. add a single compressor to the entire drum bus and have it all nicely glued together.

Instrument Rack
Drag instruments from the Instrument Library to the Instrument Rack. You can add several instruments to the rack and have them all listening to the same MIDI input to play them simultaneously. Or for live performance you can assign different MIDI channels to different instruments and have a single instance of Kontakt play several instruments.
Verdict
Pros:
Very flexible and versatile
High quality Solid EQ and Solid Bus Compressor.
Lots of 3rd party instruments
Easy to add your own samples
Cons:
I can highly recommend Kontakt 5. However I do not recommend actually buying Kontakt 5 - instead you should buy the Komplete 11 bundle as this is more cost effective and will give you a lot more instruments and effects. If you can't afford Komplete 11 start with the free player and save your money until you can afford it.
Price
The full version of Kontakt 5 currently cost 399€ but consider buying the Komplete 11 bundle for 599€ instead as this includes lots of high quality VST instruments and effects. Or the Komplete 11 Ultimate for 1199€ for even more instruments!
If you can't afford to buy the full Kontakt 5 there is also a free Kontakt 5 Player that will play all  Kontakt based instrument from Native Instruments (you still need to buy those instruments though). However 3rd party instruments will be played in demo mode only, some 3rd party instruments require the full version of Kontakt 5 - make sure you check before buying if you only have the free player. The full version of Kontakt will play all 3rd party instruments without limitations.
For more information: Native Instruments - Kontakt 5