Review: Native Instruments Komplete Audio 6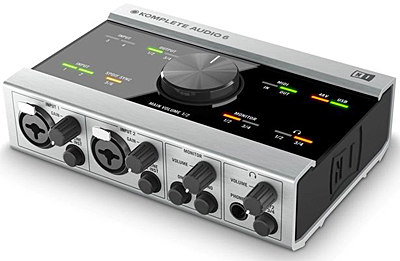 Komplete Audio 6 is an USB powered audio with 4 analog inputs and outputs, 2 digital inputs/outputs and MIDI IN/OUT. The software bundle include Komplete Elements and Cubase LE 6 to get you started in music production.
If all you need is a simple audio interface with one or two inputs, you can certainly find a lot of other interfaces that are much cheaper. However the bundled software and the big volume button are the main reasons I decided on this interface as my first audio interface.
If you are a singer-songwriter this interface will allow you to record your vocal performance and an instrument at the same time. Or you could record two vocals + MIDI keyboard as this interface also supports MIDI In/Out.
However, if you are planning to record a drum set you will need a bigger interface with more inputs.

The left side of the front hosts the two combined XLR/TRS analog inputs with gain control and Line/Instrument switch. On the front you also find headphone output, volume control for monitor and headphone.

On the back we find 2 more analog inputs (1/4" TRS), 4 balanced analog outputs (1/4" TRS) and also digital S/PIF / RCA input/output.
The MIDI In/Out is also located on the back - there is no MIDI Through however.
What I like...
For my homestudio this device has all the inputs and outputs I need (and more) at a reasonable price.
The sound quality is good (well, most of the time, see below...) and I can play my MIDI keyboard or record vocals without worrying about latency issues.
The build quality seems to be above average  - it is very heavy and with metal casing.
I really like the big volume button - you don't even have to look at the interface, you can just reach out and find it even in complete darkness.
I also like that the headphone output and the two combined XLR + 1/4" TRS analog inputs are located on the front, so I don't have to move the box around to insert a connector at the back.
The Komplete Elements software bundle adds all the software you need to get your home-studio started!
What you may dislike...
My biggest complaint is that this audio interface is very unstable on my PC; very often the sound either disappears (like if it was muted) or it starts crackling and distorting. Unplugging the USB cable and plugging it in again solves the problem but this gets very annoying when it happens several times a day. I have noticed that several other Komplete Audio 6 users are complaining about these sound issues - others have it running without problems (especially Mac users seems to have more luck). I have reinstalled Windows, updated all drivers, replaced USB cable and everything else I could think of but still it is very unstable on my PC. After replacing it with a Focusrite Scarlett 2i4 all my problems are gone and my DPC latency is much lower now. So there may be a problem with Komplete Audio 6 and some PC's. Beware of this if you are planning on using this for live performances!
A minor issue is the 48V phantom power button is located on the back - I would prefer having this button on the front.
Specs
4 analog inputs: 2 balanced mic/line/instrument (XLR) + 2 balanced line (1/4" TRS) with separate gain control
4 balanced analog outputs (1/4" TRS)
Digital stereo input and output (S/PDIF / RCA)
Mono input switch for recording vocals, guitar or other mono sources
Optional 48V phantom power for condenser mics
Headphone output with separate level control
MIDI In/Out
USB powered
Direct monitoring for latency-free recording (only inputs 1 and 2)
Bundled with Komplete Elements and Cubase LE software
For more information visit Native Instrument