Review: Electra2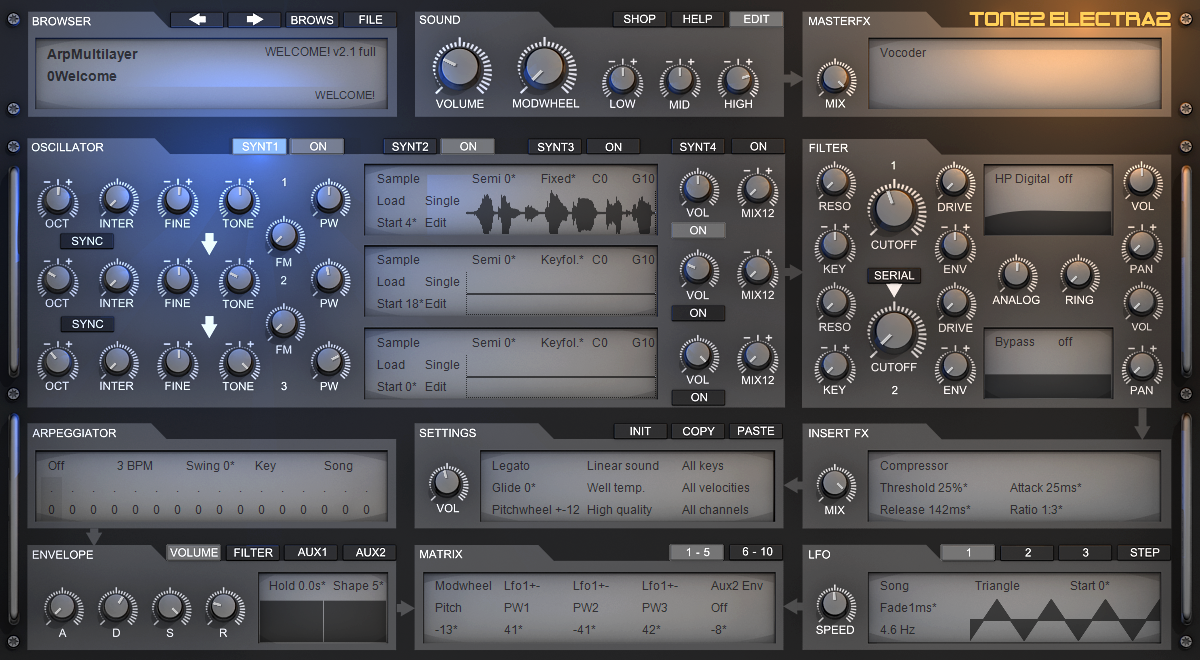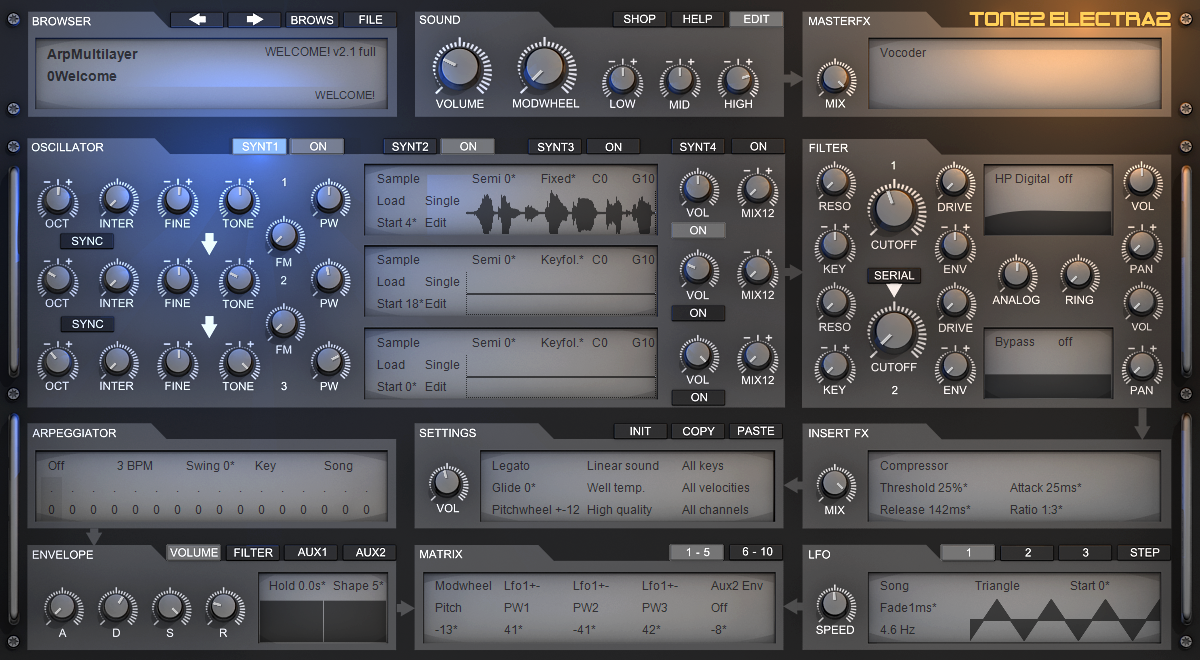 Electra2 from Tone2 is a powerful synthesizer with a high-end sound engine with four synth layers, each consisting of three oscillators, two filters, four ADSR generators, four LFOs, modulation matrix and ARP/Step sequencer. It is the sucessor to ElectraX and is compatible with old presets.
Layers may be saved and loaded individually so you can mix layers from different presets for a quick and easy way to create new sounds.
Update: As part of my Electra2 review, I have created a YouTube video, where I demo some of the presets:
Oscillators
The synth engine has 14 different synthesis methods and 46 oscillator types including VA, FM, PWM, Wavetables, Resynthesis, Ultrasaw, Phase Distortion, Vocoder and more. Each oscillator can use its own synthesis method independently.
Electra2 includes  1200+ presets – more can be bought at the Tone2 web site incl. extra wave tables. Most presets sounds modern but the synth engine can also do some nice vintage sounds. The browser makes it easy to navigate the presets and displays information about each patch.
You can also import your own samples and use Electra's editing tools to Trim, Cut, Reverse, Maximize, add distortions and edit loop points.


Filters
The filter section contains two filters that may be used either in serial or parallel mode. Each filter can choose from 38 filter types incl. 12/18/24dB and digital LP/HP/BP filters. The filters can be modulated by envelopers or keyboard in both positive and negative direction i.e. the filter opens op more the higher note you play or vice versa.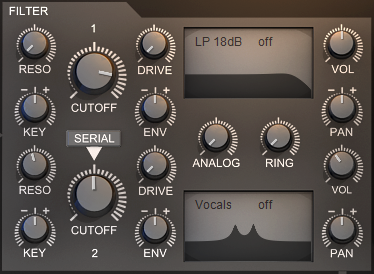 Effects
The effects section contain 32 effects incl. Reverbs, Delays, Phasers, Vibratos, Tremelos, Flanger, Vocoder and more. With such an impressive collection of effects to choose from it is a little disappointing that you are limited to only a single effect insert per layer (and a shared master effect), but I guess that is a matter of how much CPU power it would require to add more FX to the four independent synth layers.


Arpeggiator
The arpeggiator has all the basic Up/Down etc. but you can also define your own custom sequences with up to 16 steps. It also support advanced features like autochords, pitch slides, legato, swing and matrix integration. And best of all: Each of the four synth layers have its own arpeggiator so you can combine several arp patterns for some crazy sounds.


Modulation
The LFO section contains three LFOs that can run free, be triggered by key or synced to host and supports several waveforms. There is also a special step sequencer with up to 16 steps. (not to be mistaken for the ARP/Step sequencer in the Arpeggiator section).


The Envelope section contains the usual ADSR envelopes for AMP and Filter and two AUX envelopes that can be used for modulation.


The modulation matrix contains 10 slots with 60+ sources and 70+ destinations.


Settings
In the settings section you can define settings for each synth layer. Each synth layer can be monophonic, legato or polyphonic up to 64 voices. You can also do keyboard splits and assign one synth layer to the lower keys, another synth layer to the upper keys, a third synth layer to all keys and the fourth synth layer to only high velocities. This synth has so many possibilities for stacking and splitting layers!


Other features
Electra can be used standalone or as VST plugin in your DAW.
The MIDI Learn feature makes it easy to assign a knob or slider on your MIDI controller to a specific button.
Verdict
Pros:
Multilayer - you basically get four synthesizers in one package!
Can create some complex multilayered sounds not possible on other synths
Expandable - Import and edit your own samples or buy new presets and wavetables from Tone2
Can be used standalone (*.exe) on Windows as well as a VST
Some presets are very impressive with nice evolving/dynamic sounds
Cons:
Only one effect insert per layer (but still 4+1 in total!)
Would prefer drag-and-drop modulation like in Massive instead of the traditional mod matrix
Not updated as often as some of the competitors
I downloaded the demo and after playing with some of the presets I fell in love with the sound and just knew I had to buy it. I especially love the evolving pads and complex sequences/arps.
Price
Electra2 is available from Tone2 for €149 - check the web site for price in your local currency.
Notice there is a 10% discount on expansion packs when bought with Electra2.
It is available as 32/64bit VSTi and AU format plugins and also as 32/64bit standalone Windows application.